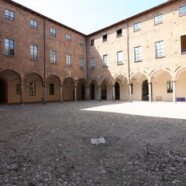 BANDO DI CONCORSO Vicinato Solidale 2023-2024
CALL Vicinato Solidale 2023-2024 eng
DOMANDA AMMISSIONE Vicinato Solidale 2023-2024
APPLICATION Vicinato solidale 2023_2024
DOMANDA DI RINNOVO Vicinato Solidale 2023-2024
RENEWAL APPLICATION Vicinato solidale 2023_2024
Regolamento Acer progetto Vicinato solidale
Che cos'è?
È un progetto d'integrazione sociale tra anziani, disabili e studenti universitari, gestito dal ASP Collegio Morigi-De Cesaris, tra il comune di Piacenza, ACER (Azienda Casa Emilia Romagna), Politecnico di Milano sede di Piacenza, Università Cattolica del Sacro Cuore, facoltà d'infermieristica e fisioterapia dell'Università di Parma e il Conservatorio "G. Nicolini".
Cosa offre?
Offre 25 posti letto in case del comune di Piacenza, gestiti dal ACER (Azienda Casa Emilia Romagna), in via Neve e in via Confalonieri all'interno del cortile del Politecnico, appartamenti bellissimi per gruppi di 3 studenti in stanze singole, per 2 studenti in camera doppia, o per un singolo studente. Lo studente in cambio ci offre la sua disponibilità di tre ore settimanali (da ottobre a luglio) di aiuto sociale alle case di riposo o alla mensa della Caritas.
Chi può partecipare?
Gli studenti regolarmente iscritti presso la sede di Piacenza del Politecnico di Milano, dell'Università Cattolica del Sacro Cuore, dell'Università di Parma, e dei corsi del biennio e triennio del Conservatorio "G. Nicolini".
Possono partecipare alla graduatoria in via residuale i dottorandi che svolgono la loro attività presso la sede di Piacenza del Politecnico e dell'Università Cattolica, e gli studenti iscritti ai Corsi di specializzazione attivi presso la sede di Piacenza.
Come funziona?
Si compila in modo completo la domanda del Bando di concorso "Vicinato Solidale" che puoi scaricare nel sito www.collegiomorigi.it e si allegano i documenti richiesti entro la data di scadenza.
La domanda sarà valutata da una apposita commissione.
Una volta raccolti i risultati un incaricato di ACER (Azienda Casa Emilia Romagna) ti contatta, ti fa visionare gli appartamenti, e quindi formalizzare il contratto d'affitto.
Perché aderire?
E' una buona opportunità per trovare alloggio, e se sei con due o tre amici puoi condividere l'appartamento.
Arricchisci il tuo curriculum dal punto di vista del volontariato, importantissimo anche all'estero.
Impari l'italiano se vieni dall'estero.
Frequenti altri ambienti al di fuori dell'Università e vivi la città in modo attivo
È capitato che qualcuno facendo il Vicinato abbia trovato lavoro.
Puoi visitare questo Link per altre info e qualche foto.
ENGLISH VERSION
What do we offer?
The project offers 25 vacancies in various houses in the city of Piacenza, run by ACER (Azienda Casa Emilia-Romagna), in Neve street and Confalonieri street in the Politecnico university courtyard. These beautiful flats are available for groups of 3 students divided into 3 single bedrooms, for student pairs in double bedrooms, or for one single student. In exchange for hospitality, the student will be available for social work for 3 hours  per week (for October to July) in nursing homes or at soup kitchens run by Caritas.
Who is eligible?
All students attending university Politecnico di Milano (branch location in Piacenza), Università Cattolica del Sacro Cuore, Università di Parma, and biennium and triennium courses at Conservatory "G. Nicolini" can apply for this project.
Although applications for students mentioned above will be prioritised, PhD students from Politecnico's branch location in Piacenza and Università Cattolica, and students attending specialisation courses in Piacenza can also apply for this project.
How does it work?
You will have to download the form "Call 2022 2023 Vicinato solidale" from the website www.collegiomorigi.it, fill out the form in its entirety, and attach the required documents before the deadline.
The application will be assessed by a dedicated commission.ù
Once the results have been collected, an ACER (Azienda Casa Emilia-Romagna) representative will contact you, give you a tour of the flats, and finalise the tenancy agreement.
Is this project for you?
This is a great opportunity to find an accomodation, which you can also share with your friends if you want to.
You will have the chance to expand your Curriculum with social work, which is an especially important aspect for recruiters, including those abroad.
If you are an international student, you will have the opportunity to learn Italian.
This project is great for you if you want to spend time in places that are not necessarily related to University and actively experience the city of Piacenza.
Last but not least, some students who have taken part in this project have actually had the chance to find a job.
For more information and pictures you can visit: